Quick Links:
Love Money Health
It can be a satisfying year for Aries the Ram
, as you're in natural harmony with the character of the Yin Wood Sheep. The pace is steady and upbeat, and your creative spirit shines with the light of the Sun. At the same time your pragmatic side can quickly identify problems or details that help or hinder you on your life path. You can move forward with confidence and awareness, as bright opportunities appear and you have influence in all the right circles. Elemental magic brings both progress and stability. Aries has a fixed element of Fire which is reinforced by the Sheep's Fire aspect and augmented by the Wood element of this year. A strong and vibrant Earth connection increases your grounding and productivity.
See also: Year of the Yin Wood Sheep 2015-16.
The Yin Wood Sheep inspires preparation for the future, but also delight in the moment. Simple pleasures are the most precious. Indulge yourself and those you love. You have a keen eye for beauty and this elegant year appeals to your aesthetic tastes. It's an auspicious time to settle into a new home or rejuvenate your current residence. The number eight rules 2015 (2+0+1+5) and is also the number of the Chinese zodiac Sheep or Ram. Eight can be lucky for you, inspiring the visionary, forward-seeking nature of Aries. This number is associated with the planet Saturn, and can help make dreams into reality.
Fire, the Sun or the color red stimulates action. Elements of Water or the Moon can expand your consciousness. A garden can also be fortunate for you; if you don't have space for an outdoor garden, get green potted plants and herbs, or fresh flowers. Avoid placing plants or Wood elements directly in the center of your home, as these could antagonize an unlucky Flying Star located there in 2015.
See also: Feng Shui Flying Stars 2015.
Aries Love
Love for Aries in a Sheep year
can be magical. The Sheep inspires beauty and the arts, and brings a romantic whimsical flair to relationships - but don't be fooled. The Ram's keen sexuality is heightened this year, and passions can run deep. While the energies of 2015 aspire to harmony, there can be some volcanic turbulence beneath the surface, which may emerge in surprising ways. Aries is a devoted partner and prefers to work things out if possible, but problems in the Sheep year can be unusually temperamental or stubborn. Beware of mulling over minor details and focus on the bigger picture. Relationship difficulties are often simpler than they seem, but can be complicated by a myriad of extraneous factors. Time and space may be needed for perspective or healing.
Fundamentally a Sheep year isn't one of breakups. The Sheep brings elements of nurturing and growth to love relationships which can help them become stronger. Couples should put aside the demands of the ego and focus on prevailing yin energy to facilitate the process of fortification and rebuilding. Flying Star #3, the Feng Shui star located in the center of the home this year, has a direct effect on family harmony and love relationships whether intimate, friendship or filial, causing bickering and heartbreak. If your bedroom is in the middle of the house, or if your marriage bed is in the middle of the room, move it. If you can't, the color red or elements of Fire can help reduce harmful energies. Fire energy can be real or faux, such as a fireplace, candles, red artwork, fabric or decor. In this regard red can have a dual purpose as this color also stimulates passion. Aries is a passionate sign and intimacy can be dazzling this year as the Ram's golden energy blazes with solar power. It's a time of unique sensual experiences, from thrills aplenty reaching brilliant cosmic heights, to tender romantic pleasures that linger through a lazy afternoon. Aries is an exciting lover who makes a partner feel like the only person in the world, or at least the only one who matters.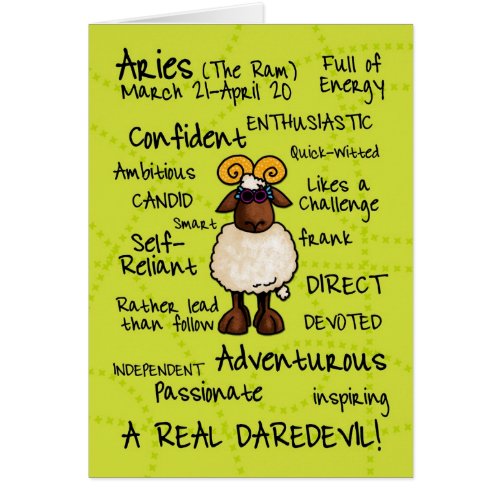 Aries Ram Traits Cards
- Visit
Artist Shop
Love is especially vibrant for Aries in spring and early summer. If you're seeking your soulmate in 2015, your paths are likely to cross in a place of creation or creativity. You can expand the connecting channels through activities that send out good karma, such as volunteer or charity work. Your soulmate will be charmed by your confident style and intrigued by your inner beauty. For true love, the time is right to get out in society and let your radiance shine.
Best months for love: March, April, June, November
Least favorable months for love: July, August
Aries Money
Aries rarely has difficulty
attracting income opportunities. This year is rich with potential for the Ram, who will find a boost in money, prestige or benefits at work. Entrepreneurial ventures can fare well assuming you maintain your focus. There is a tendency to go dancing off into the meadow chasing butterflies as the Yin Sheep can bring a dreamy fantasy quality to the world.
Fundamentally, Aries is well equipped for success. This is a favorable money year but some effort is required. Wealth comes from work and you get what you put into it, as seeds nurtured with care will grow into a prosperous garden. Maximize your energy and avoid pessimists or narrow-minded thinkers who will only drag you down. You could also receive a sum of money this year from an inheritance or legal matter, or work you have done in the past.
Live Psychic Readings: 3 Free Minutes + 50% off!
psychic, astrology, dreams, numerology, palm reading, tarot
Trust your instincts and intuition. Gut feelings and hunches can get you ahead of the game, but if you spend too much time thinking about it, you can lose your sense of direction. It's better to take a leap of faith and move forward, than to stand on the brink of the chasm staring into the abyss. In the wild, Sheep are smart, capable creatures able to survive in harsh environments, relying on wit and agility to get food, defend territory or lambs, detect and escape danger. They find the best opportunities to profit from their natural skills and available resources. Aries the Ram retains much of this animal's untamed nature, often beneath a polished veneer of domesticity. This year you may find yourself challenging learned behaviors and coping mechanisms as they come into conflict with your own thoughts and processes. While work brings money, working too hard at something you dislike, or are unsuited for, can cause health problems and other complications. Aries can attract money luck with the precious metal gold, solar power or symbols of the Sun. Fortunate Feng Shui Flying Star #8 situates in the north this year. If you work at home, this is a good money-drawing location. If paying bills think of the blessings you receive(d). Negative self-talk about money will create a barrier for happy prosperity Qi. When you give with grace, good luck comes back to you.
Best months for money: March, May, June, December
Least favorable months for money: August, October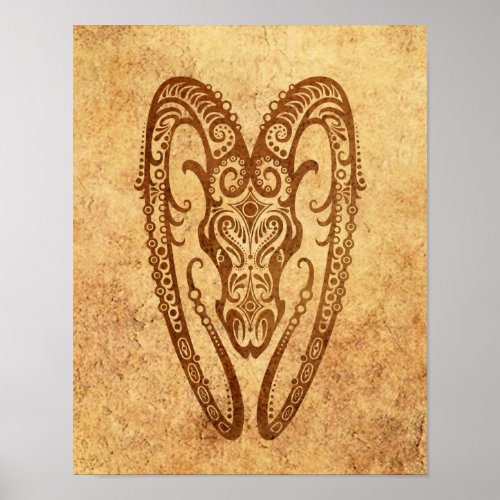 Aries Art Posters
- Visit
Artist Shop
Aries Health
Aries is a robust sign
and the Ram's expressive nature can promote healing this year. Dance, sing, learn an instrument, paint, use and celebrate your natural talents. Infuse your Self with positive energy and expunge the bad. Now is the time to release problems of the past, heal emotional pain and learn to reverse harmful habits or processes. It's a time of inward-seeking. Emotions are paramount in the Year of the Sheep and unhappiness can cause a slew of symptoms including eating disorders, body tension, back pain or ennui. Don't procrastinate on health concerns as small things can build up and affect other areas of the body. Deficiencies in natural metals such as iron, zinc or copper can cause such symptoms as fatigue, slow rate of healing, dull skin or hair. The elements Water and Metal can help balance and compliment dominant Fire, creative Earth and productive Wood energies this year.
Lucky colors for Aries health and happiness include mint green, blue-green shades, gold or bronze, scarlet red, cherry red, ruby red, rosy hues of brown or beige, magenta, purple, ivory and warm off-white tones. Auspicious Flying Star #1 appears in the East this year, which is the area of Health. Translucent or clear crystal and glass objects are fortunate here. It is the optimal place for your bed or bedroom.
Best months for health & happiness: April, July, September, November
Least favorable months for health & happiness: October, Jan 2016
Set a steady pace this year and don't overthink the details. In the Year of the Sheep, the simple approach is the best. Take time to explore, refresh and rejuvenate as needed. Express yourself and let your love light shine. Aries can work magic with the energy of the Yin Wood Sheep. Though you may have to shear away some extraneous factors to get to the heart of truth, all signs point to a time of abundance and positive growth for Aries the Ram.
Planets in Aries this Year
Until May 2018: Uranus (independence, awakening, sudden turns, science, self-expression, rebellion)
Feb 20 2015 - Mar 17 2015: Venus (love, beauty, truth, grace)
Feb 20 2015 - Mar 31 2015: Mars (power, sexual vigor, ambition, motivation)
Mar 31 2015 - Apr 14 2015: Mercury (communication, expression, intellect, commerce)
Jul 26 2015 - Dec 26 2015: Uranus Retrograde (revolution, change, facing fears, self-analysis)