Quick Links:
Love Money Health
It can be a fortunate year for Capricorn the Sea Goat
, as harmonious rhythms emerge and beauty shines all around you. The Year of the Yin Wood Sheep (aka Ram, Goat) is a time of romance and natural abundance. New pathways open up for Capricorn, and magic is in the air. You can make great progress at a reasonable pace. Your fixed element, Earth, harmonizes with the Fire and Earth duality of the Yin Wood Sheep. Wood, associated with productivity and development, grows abundantly from nurturing Earth, and feeds progressive Fire. This is a year of cycles, subtle changes, healing and awareness. Creativity flourishes, prosperity increases and Yin virtues of kindness, forgiveness and compassion prevail.
See also: Year of the Yin Wood Sheep 2015-16.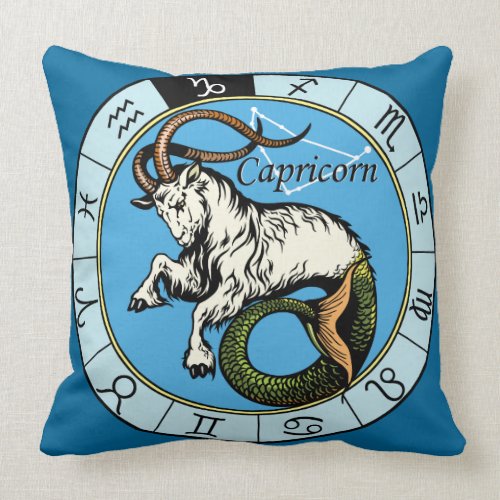 Capricorn Pillows
- Visit
Artist Shop
Your social charisma sparkles and even the most independent Capricorns gravitate toward group activities. Relationships formed now, in business, friendship or love, can be fruitful for years to come. It's also a good time to resolve family issues or cultivate deeper connections.
Fiction and fantasy abound. You may enjoy expressive media such as literary arts, drawing, photography or music. Capricorn has keen skills of judgment and evaluation. In times of uncertainty, trust your instincts and don't second guess yourself. As usual you can find a myriad of ways to get ahead. The color purple can be lucky, relating to creativity, balance, nobility and higher consciousness. Purple is an elemental color of Fire, but more purpose driven with less rampant appetite than red. This color contains much of the forward moving energy of Fire in a more elegant way.
It's a year of pleasant progress, and you can afford to take some time to relax. Pressures ease up a bit and life gets better. Don't let little things get on your nerves. The Yin Sheep year can rouse some long-buried emotions. It's a happy lull between last year's busy Horse year and the unpredictable active Monkey Year 2016. Now is the time for soul quests and learning adventures of all kinds. You get to know yourself much better, and you could learn a lot more than you thought.
Capricorn Love
There's one word for Love in a Sheep Year
, and that word is "Yes". Love is everywhere, attraction abounds, beautiful pleasures come your way and hearts unite in a dreamy swirl of romantic bliss. Relationship problems are more easily resolved this year, and domestic life drifts into an amiable rhythm. Life is good, and love is grand. As a Capricorn you may sometimes seem emotionally reserved, but have rich reserves of passion smouldering beneath the surface. Used wisely, this energy can generate a lot of power, but if you have trouble communicating or expressing yourself you could encounter conflict. It's important to deal with relationship problems openly, because keeping issues inside, hoping they'll resolve themselves, can wreak havoc even in this gentle year. Fortunately, it's much easier for partners to open up to each other, and most difficulties can be alleviated with a bit of mutual effort.
You can attract love luck with the number nine (9) this year. The south west of your home is the area of Love, Romance and Marriage, and extremely lucky Flying Star #9 is situated there. Enhance this star's energy with objects of crystal or gold. Jade is also lucky. It's the perfect location for your bedroom if you're a couple. Sleeping in this area can promote fortunate Love Qi to attract a desirable partner if you're single. It can also help to make a list of the qualities you're looking for in a lover or spouse, and place it here. It's notable that the South West is surrounded by less favorable Flying Stars. Hang metal bells or chimes above any doorways or windows to keep out misfortunate energies. A particular Feng Shui trouble spot is in the center or "Heart" of your home, which is occupied by nasty Flying Star #3 in 2015-16. Get rid of this Star's bad influence by decorating with red or placing objects of this color in the center of your home. Red can attract good fortune in love and other areas of life. The "Heart" of your home has no fixed size. In homes with lots of love, it's bigger, and thus attracts more love. Meditating in this area and blessing it with love will expand its influence and positive energy. In the Year of the Sheep, intimacy can be frisky for Capricorn as the Goat's earthy sensuality is enhanced by passionate Fire, while the carefree energy of this year releases inhibitions and stimulates the imagination. A keeper of many secrets, Capricorn can surprise a partner with unexpected depths of passion and spontaneous delights.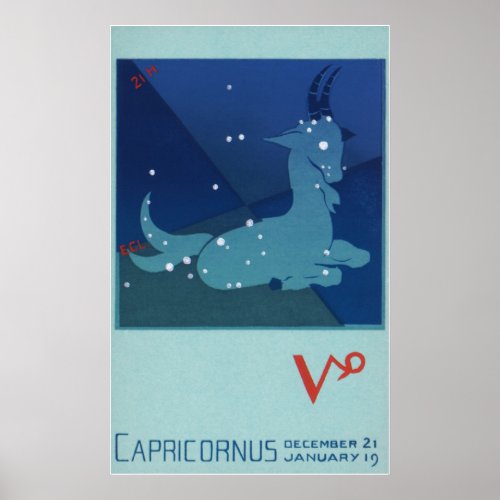 Capricorn Posters
- Visit
Artist Shop
Love and romance are most fortunate later in the year, but happy blessings can appear at any time. If you're seeking your soulmate you could encounter this person at a place of celebration or entertainment such as a music festival, birthday party or other special occasion, live performance venue, dance or comedy club. Your soulmate will be drawn to your offbeat sense of humor and flair for the unique.
Best months for love: April, May, July, October
Least favorable months for love: August, November
Capricorn Money
Capricorn has good money sense in general
, and this can be a fortunate year. It's ruled by the number Eight (8) which is associated with prosperity and work. Eight is also a strongly spiritual number of enhanced awareness. It's independent but in constant rhythm with the universal flow. Eight resonates with power this year, and Capricorn has the resources to make the most of it.
You have a forward thinking nature and an uncanny eye for hidden paths of profit. Pragmatic and clever, you can find opportunities where none seem to exist. You don't rely on others, and have the ability to create your own luck. As an employee you may have clashes with superiors. As an entrepreneur, you have the dedication and foresight you need to succeed. If you're doing work you love, you can rise to success this year, as new avenues and bigger income sources appear.
Live Psychic Readings: 3 Free Minutes + 50% off!
astrology, dreams, numerology, empathy, palm reading, tarot
You could get money from a lottery win, scholarship or government grant. Wealth most likely comes through channels of work and career. You can make great advances as your skills are in demand and you receive recognition or accolade for your efforts. If you aren't happy at your current job, you have multiple chances for better employment. Opportunities appear throughout the year with especially lucrative choices in autumn 2015 and early 2016. You can increase your money luck with the precious metal silver, which relates to Yin energy, the Moon and water. Avoid drastic action if possible. The way of the peaceful warrior can take you far. Be prepared for some distractions, as lines between fantasy and reality can blur as focus shifts into dreamier dimensions. Beware of your inner critic, who could occasionally emerge in obnoxious ways and undermine your progress. Even if you do wander off the path, it's to be expected in a Sheep Year. Give yourself a break, get back on track and don't worry about it. Savings can grow this year, and enterprise turns a profit. If you incurred debt in the previous Horse year, you'll find it can be resolved without too much trouble. Try to avoid borrowing large amounts of money though, as it may cause future regret. You could also bring in some extra income from a sideline or hobby, possibly of an artistic nature.
Best months for money: September, October, November, December
Least favorable months for money: May, Jan 2016
Capricorn Health
The Year of the Sheep is usually a healthy one
, and Capricorn is health-savvy in general. Nobody has to tell you to exercise and eat your vegetables. You may be increasing your intake of organic foods. In the Year of the Yin Wood Sheep there's a lot of emphasis on fresh plants and herbs for health. Capricorn may be prone to physical problems such as stomach upset, heartburn or TMJ disorder. This sign can also suffer from noise sensitivity or anxiety-related ailments such as blunted blood pressure syndrome, in which the heartbeat escalates but blood pressure drops. It's wise to watch out for anxiety problems relating to the past, which could affect on your progress this year. Your dreams can tell you a lot. Be sure to get a good night's sleep as fatigue can promote pessimism and doubt. Watch out for a physical injury occurring in the South of your home or workplace. This area relates to Fame, Reputation and the Light Within You. Clear it of clutter and make sure it's safe and well-lit. Auspicious plants for health here include hyacinth and bamboo.
Lucky colors for Capricorn health and happiness include lavender, lilac, royal purple, deep purple, magenta, hot pink, powder pink, brick red, burgundy, iron oxide red, silver, black, misty blue, ultramarine blue, cobalt blue, midnight blue, moss green, forest green and apple green. Exercise you might enjoy this year includes cycling, weights, kayaking, judo, cross country skiing, walking meditation and classical dance.
Best months for health & happiness: April, May, October, November
Least favorable months for health & happiness: July, August
As the sign of the Sea Goat or Goat, Capricorn has a natural affinity with the Wood Sheep year. You have what you need to succeed, and while you do encounter some obstacles here and there, you're also blessed with the talent and fortitude to overcome these with ease. In the Sheep year, destiny is yours to command. Walk the path of Light, and be sure to use your powers for good.
Planets in Capricorn this Year
Until Mar 23 2023: Pluto (creation, transformation, destruction, healing, power struggles) retrograde Apr 17 2015 - Sep 25 2015 (problems: past issues, control, emotional health; but also, ease of pressures)
Dec 10 2015 - Jan 02 2016: Mercury (communication, expression, intellect, commerce)
Jan 08 2016 - Feb 13 2016: Mercury - retrograde until Jan 25 (problems: communication, technology, money)
Jan 23 2016 - Feb 17 2016: Venus (love, beauty, truth, grace)