Quick Links:
Love Money Health
It's a lucrative time for Libra the Balance
or Scales, as your multiple talents shine and life is an adventure in learning. In the Year of the Yin Wood Sheep you acquire new skills, explore the depths of consciousness and get to know yourself better. A romantic Air sign ruled by planet Venus, you're naturally in tune with this era of art and beauty.
See also: Year of the Yin Wood Sheep 2015-16.
Freedom-loving Libra can achieve a happy equilibrium of independence and community. Watch out for delusions, or ventures with a lot of bluster but no substance; but also don't be surprised if what seems shallow turns out to have secret hidden dimensions. You have an uncanny eye for significant details that others might not see. Prevalent Yin energy enhances your connection to dreams and deeper awareness.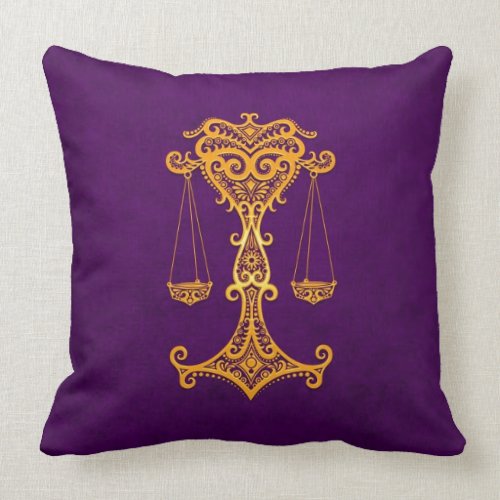 Libra Purple Pillows
- Visit
Artist Shop
Your social circles expand and you're in demand at parties and gatherings. Nonetheless you may stay closer to home as the Sheep brings blessings of domestic bliss, comfort and simple pleasures. Entertaining at home is on the rise, and Libra is famous for hospitality.
Elemental influence is complex but exciting. The zodiac Sheep's fixed elements are Fire and Earth. Air sign Libra's corresponding lunar sign is Dog, also ruled by two elements - Metal and Earth. The dominant element of 2015-16 is Wood. Bring some Water into your environment to create perfect harmony. You can have luck with Feng Shui Flying Star #4, shining brightly in the North-west of your home or workplace. This is the area of Friends and Helpful People, Travel and Blessings. Star #4 brings fortune and beauty, relationship success and luck in romance.
See also: Feng Shui Flying Stars 2015-16.
Your natural grace is enhanced and you may be drawn to expressive media such as dance or performance arts. Gentle virtues prevail. Life can take you on some whimsical journeys. This year the past and future are especially interconnected. You may be drawn toward bygone days, researching your family tree or delving into past lives. You can find intriguing treasures in forgotten places.
Libra Love
Ruled by bright Venus, Libra
is a starchild of Love. Love is all around you this year as the energy of the Yin Sheep promotes romance, intimate beauty and playful fun. It's a magical time when anything can happen. If you're single, you attract more than one swooning swain. Casual relationships could get more serious. In a Sheep year, relationship harmony increases and problems are more easily resolved. This is a time of planning and perhaps taking the next step in a committed relationship, such as moving in together, marriage, children or a major purchase such as a family home. Although this is a
Widow Year
, it can be a favorable marriage year for Libra if you take care to choose an auspicious date. This is determined by you and your partner's lunar zodiac signs, and other influential factors such as moon phases and so on.
White jade
is a fortunate stone for love (also money) this year. It brings a gentle feminine influence to its surroundings and helps dispel angry or jealous emotions that might come your way. Jade is associated with Water, which can help bring you inner healing and balance. An element of dreams and the subconscious as well as riches on material or spiritual levels, the energy of Water opens your heart and mind to the flow of fortunate Qi. If relationship trouble spots appear, it's best to address them quickly. Difficulties can help your relationship grow stronger. Couples are less likely to break up in the Year of the Sheep, and troubled partnerships can heal with time and care. Libra is a good communicator. You're always willing to make some compromises and bend like the willow for the sake of the greater good. But, if pushed to your breaking point, you'll snap back with vigor and wrath, and in this emotional year you must be careful not to say or do what you might regret. If things get out of control it may be better to take time apart for a while. You can be secure in the knowledge that true love will always prevail. Intimacy is both earthy and cerebral, and can ascend to daring new heights in the Year of the Sheep. Appearances may be deceiving, and while Libra can be an infuriating tease, this sign is a dynamo of sensuality and knows how to have fun. Libra is a considerate lover, sensitive to a partner's needs, creating a delicate interaction of tenderness and erotic intensity.

Libra Traits Mugs
- Visit
Artist Shop
If you're seeking your soulmate, you could cross paths with this person at a place of action or transportation such as a racetrack, sporting event, dance group, playground, airport or travel club. Many bright colors appear. The year of the Sheep is a prime time for soulmate encounters, as channels of love are wide open. Your soulmate will be smitten by your smile, but may be a little bit shy. Luckily Libra is friendly.
Best months for love: May, June, November, December
Least favorable months for love: July, August
Libra Money
For Libra, money matters are likely to improve
in the Year of the Sheep, as we move into a time of growth, prosperity and natural abundance. Problems affecting your flow of income are lessened, and pressures decrease. New channels of earning can open up, and current work or projects have the potential to expand and flourish. If you made it through the flamboyant Horse year 2014-15 without too much spending, the Year of the Sheep is a breeze.
You're always resourceful, and Libra usually has strong multitasking and organizational skills. As an employee you're a benefit to any company, and this year you deserve a raise. Or a promotion, or better perks. When you ask for what you want at work, chances are you'll receive it. Despite an overall peaceful nature the Sheep is a sign of deep passions, influenced by the element Fire which stimulates forward motion. Beware of being too meek, or you could miss out on some of the best opportunities.
Live Psychic Readings: 3 Free Minutes + 50% off!
psychic, astrology, dreams, numerology, palm reading, tarot
In the financial arena, trust yourself and make your moves with confidence. Like Libra, the Yin Sheep loves peace, justice and democracy. You do well in leadership roles this year as you're naturally diplomatic and always charming. You can excel in social occupations, arts such as music, acting or sculpture; or in areas of travel, natural health and sales. Many Libras are born entrepreneurs, having a sensitivity to the needs of others and an uncanny ability to spot niches and trends. Beware of emotional problems such as low self-esteem, which can manifest as indecisiveness, hesitation or the need to please everyone. But, if you hesitate, ask yourself why. Your intuition is keen this year and you may be sensitive to unseen factors. Libra is usually savvy enough to know the difference between a gut feeling and a reckless act of impulse. The colors blue and black can help attract prosperity. When decorating consider the yin yang aspects of color and space. Blue is especially fortunate in the South, which is the area of Fame, Reputation and the Light Within You, to soothe some bad energy in that sector. Use this color if you want to optimize creativity or expand your center of serenity. White jade can lucky for money this year. You can also attract money luck with number Eight (8) or Three (3).
Best months for money: May, August, November, December
Least favorable months for money: September, October

Libra Holistic Plates
- Visit
Artist Shop
Libra Health
This year is ruled by Wood
, the element associated with the liver, gall bladder and stomach. To counteract illness Qi you can put green plants or a Wu Lou gourd in the Health area of your home or workplace, the East, or wear a
Wu Lou charm
. Beware of toxins entering your body as these can be particularly damaging to your liver this year. Plants such as Chinese evergreen can help clean the air. Drink plenty of water. Take an organic approach and nurture the whole. A gradual pace is best. Watch out for sharp objects or corners as a troublesome skin injury appears in mid spring. Avoid surgery at that time if possible. Be sure to disinfect any wounds. This is not a serious problem but could slow you down. Watch out also for problems of the scalp and hair. Dull or brittle hair can indicate deeper health problems. Emotions can also take their toll as the Sheep is a deeply feeling sign. Libra can be an emotional whirlwind but is fairly stable at the center of it all. Don't let things add up, however.
Libra lucky colors for health and happiness this year include white, silver, cream, ivory, azure, baby blue, cobalt blue, lilac, indigo, forest green, emerald green, pastel green, burnt orange, raw sienna, pink and magenta. You might enjoy the more "fun" types of exercise this year such as dancercise, cheerleading, water skiing or bicycle touring. It's also a good time to take a course in massage or indulge in a spa treatment - for health reasons, of course.
Best months for health & happiness: May, June, August, December
Least favorable months for health & happiness: April, September
Keep an open mind and have fun this year. Things are not always as they appear, and while the Sheep can seem mild-mannered you never know what could happen. Positive change comes your way and the options are diverse. You can vanquish challenges with ease. Fortune takes a turn for the better and, while you may not take huge leaps forward, you make good progress, and all is well.
Planets in Libra this Year
Aug 27 2015 - Nov 02 2015: Mercury (communication, expression, intellect, commerce); retrograde Sep 17 2015 - Oct 09 2015 (problems: communication, technology, money)
Nov 08 2015 - Dec 05 2016: Venus (love, beauty, truth, grace)
Nov 12 2015 - Jan 03 2016: Mars (power, sexual vigor, ambition, motivation)