Quick Links:
Love Money Health
The Year of the Yin Wood Sheep can be fruitful
for Virgo the Maiden or Virgin, as elemental magic works in your favor and your natural talents flourish. Opportunities are plentiful, work is productive and pressures ease up. There's a lazy energy in the air, a dreamy happy feeling that inspires long meandering journeys in the flowery meadows of the mind, and the intrinsic knowledge that abundance is all around you. Your Earth element nurtures this year's Wood influence, and adds stability to the Fire and Earth of the zodiac Sheep. You're using your energy more wisely. You can make steady progress and still have time to enjoy the scenery. Virgo exudes an aura of unusual calm this year, as the Yin Sheep brings blessings of domestic bliss, harmony and serenity.
See also: Year of the Yin Wood Sheep 2015-16.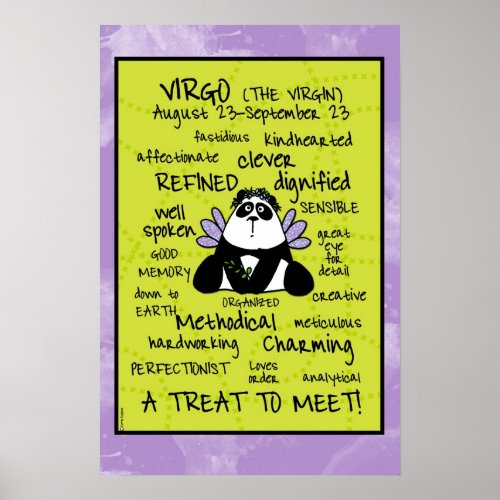 Virgo Traits Posters
- Visit
Artist Shop
Something magical happens when the Virgin's earthy essence meets the rejuvenating energy of the Yin Sheep. Creativity thrives, and options arise where none existed before. Factors set in motion long ago are working in your favor. This is a time of seeking, but also development.
Although no major upheavals appear, you could find yourself in quite a different place at the end of the year than when you started. A garden can be fortunate for you as green plants generate and attract luck and healthy Qi, and also because earth-based activities can keep you in touch with your roots. Avoid creative or family activities in the center or "Heart" of the home, and don't put any plants there, as this area is inhabited by a nasty Flying Star in 2015-16. This Star can use emotions against you, causing quarrels or relationship decay. Fill this sector with loving thoughts. Red is lucky here.
See also: Feng Shui Flying Stars 2015.
The West of your home is the area of Creativity and Children, but there's also a ferocious Flying Star there. The North-east relates to Spiritual Growth and Self-Realization. Making art in this area, including visual arts, writing and music, can be fortunate this year, as can creative activities relating to work or scholastic achievement. It's also a favorable place to meditate or get in touch with your inner child. This is a time of simplicity and being in the moment, and while things may not seem to move very fast, you get exactly where you need to go without much trouble at all.
Virgo Love
Love can be fabulous for Virgo
in a Sheep year. In relationships, new levels of trust and compassion appear. For single Virgos, the idea of settling down may be tempting, and a bit disturbing. Virgo has a natural tendency to question everything, and if things are too good, this analytical sign can get suspicious. You can worry over trifles until they turn into something to actually worry about. This can sometimes be a way to avoid dealing with deeper feelings. Your expressive talents sparkle and it's the perfect time to make friends with your emotions. The influence of the Yin Wood Sheep inspires an atmosphere of trust and comfort. It's a year to celebrate Love, as this zodiac animal brings an increased awareness of beauty along with virtues of kindness and compassion. Soul connections are stronger and intimate relationships develop greater depth and richness than ever before.
Discover love at Matchmaker.com
Virgo will be having more fun in the bedroom, if such a thing were possible, as the Maiden is considered the most sensual of the zodiac signs. Those with a Virgo partner are truly blessed this year. Virgo is an intellectual lover with smouldering passions. This sign treasures the holistic approach to sex, seeking satisfaction of mind, body and spirit. Relationship problems and breakups generally aren't in the stars for the Sheep year. Of course these can happen anytime, but the Year of the Yin Sheep is one of healing and resolution. Disputes in family and love relationships are fewer, and current problems have a better chance of being solved at this time. Unsolved problems have the potential to cause escalating trouble going into the Fire Monkey Year 2016-17, so beware of living in denial. You may have to smooth out some communication issues, and extra time spent here is worth it in the end.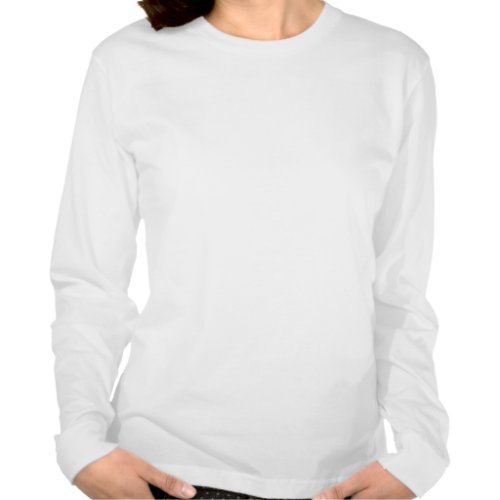 Virgo Zodiac Shirts
- Visit
Artist Shop
For single Virgos, the laws of attraction function in your favor. Falling in love could be quite unexpected. If you're seeking your soulmate, you could encounter this person at a place of literature or learning such as college or university, a library or even a pub trivia night. If your eyes meet across a crowded room and your gut tells you this is the one, you may question it ... but really, Virgo, you know the truth.
Best months for love: July, August, October, November
Least favorable months for love: March, May
Virgo Money
Money for Virgo can be abundant
as the Maiden has many opportunities to profit. You have an excellent head for facts and figures, and in business you're willing to put in the work needed to reap the benefits. If you can find ways to use your energy most efficiently, you'll have plenty of time left over to enjoy the best that life has to offer. This is a year of planning and strategy, but you can make some significant advances.
Job promotions, raises, entrepreneurship or other employment opportunities are fortunate this year as the number eight (8) rules 2015. Eight is a number of work but also prosperity and success. In Eastern culture it's considered the luckiest of numbers. It's associated with the sign of the Sheep (eighth in the Chinese zodiac) and with Feng Shui Flying Star #8, called the Wealth Star. This star locates in the North of your home or workplace and brings luck in finances relating to business, career and life path. To enhance the magic of Star #8, place wealth-drawing charms such as a
money frog
here. It's the prime location for your office, cash register or any activities relating to money.
The color gold or gold ornaments and jewelry can attract prosperity and help your money grow, as it encompasses the nurturing power of the Sun. Your corresponding Eastern lunar zodiac sign is the Rooster, which is most auspicious for wealth in a Sheep year. Your corresponding sign isn't necessarily the one you were born under, but aspects of your personality or lifestyle can reflect some of this sign's characteristics.
See also: Your Lunar Zodiac Sign in the Year of the Sheep.
Thrifty Virgo isn't as impulsive or prone to overspending as some signs, but if you did rack up some bills in the extravagant Horse year, you're in a good position to settle these and move on, as the energy of the Yin Sheep brings resolution of debt and better financial stability. You could also make some money this year through expressive enterprises such as visual arts, acting, writing or music. Social and work connections can get you further ahead. Take time to cultivate those you have, and be open to new contacts and ideas, as many helpful people appear along your path. Community work, group activities and business partnerships can be fortunate for Virgo. If you're in a position of authority, delegate responsibility and beware of being overly critical with others, and most of all yourself. It's not wise to be too trusting with money this year, but you can relax.
Best months for money: August, September, October, November
Least favorable months for money: June, Jan 2016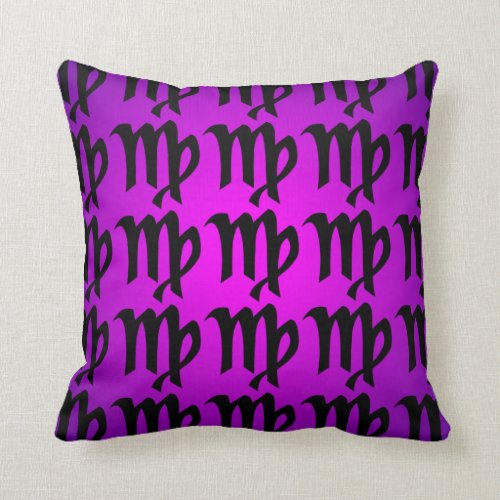 Virgo Purple Pillows
- Visit
Artist Shop
Virgo Health
If you want to know anything about health, ask a Virgo
. If this sign doesn't know the answer, she'll find out and present you with it complete with details, graphs and color coded references. Virgo has an inquisitive mind and a knack for scientific analysis. Many Virgos are drawn to health related professions, especially natural health. In the Year of the Sheep, emotions are linked to illness. Meditation, including walking meditation; stretching, dance, horseback riding or swimming can help ease body tension and calm overactive thoughts. As mind and body are one, the mind cannot race if the body is relaxed. You make an effort to eat well in general, so diet isn't really an issue for you this year. Your health improves overall. Be sure to wear comfortable footwear and watch your step in icy or slippery conditions, as you may have a problem of the feet or ankles in early winter. The color orange can improve your mood and is especially fortunate for health this year, as is food such as oranges and carrots. Watch out for a deficiency of Vitamin A.
Lucky colors for Virgo health and happiness include sea blue, navy blue, tropical shades of blue and green, gold, amber, all shades of orange, earth brown tones, charcoal gray, royal purple, deep purple and white. You could also benefit from healing herbs such as chamomile.
Best months for health & happiness: May, July, September, December
Least favorable months for health & happiness: March, April
Live Psychic Readings: 3 Free Minutes + 50% off!
psychic, astrology, dreams, numerology, palm reading, tarot
It can be a happy, well-rounded time for Virgo in general. You can make confident decisions and move ahead at a steady pace. Be sure to give yourself a vacation this year, especially if you didn't do so last year. Take adequate time for yourself and don't feel pressured to perform to unreasonable standards. Life is beautiful, and in the year of the Yin Wood Sheep, it's your job to enjoy it.
Planets in Virgo this Year
Jul 18 2015 - Jul 31 2015: Venus (love, beauty, truth, grace) - retrograde Jul 25 (problems: relationships, honesty, empathy, harmony)
Aug 07 2015 - Aug 27 2015: Mercury (communication, expression, intellect, commerce)
Aug 11 2015 - Sep 09 2016: Jupiter (nobility, inspiration, abundance, higher purpose); retrograde Jan 08 2016 - May 09 2016 (problems: self-esteem, wealth, business, progress)
Sep 25 2015 - Nov 12 2015: Mars (power, sexual vigor, ambition, motivation)
Oct 08 2015 - Nov 08 2015: Venus (love, beauty, truth, grace)